Tonight's the Night! Hooray for Halloween!!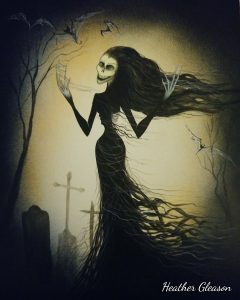 TONIGHT 7PM come back to my website. I will have all sorts of FUN SpOoKy goodies for you! Including a Small launch of tank tops In a variety sizes small-3X. I have created all the textile designs. which has been very fun. I am loving the high quality of the Fabric, my Designs and workmanship that went into making these tops. Starting out small. If I get enough orders more designs will come out including Leggings, 3/4 sleeve tops and more tanks that you can wear everyday, at home or at the office right in time for Autumn. This winter my goal is to work on more of the above garments and add in Dresses, and blazers. Please stop by 7PM est. see what I have to offer. 🙂
Have a Frightfully Great Day!!!