Living Dead 16 x 20 Large Stretched Canvas Painting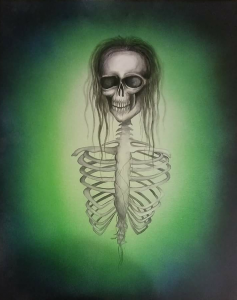 Living Dead
Original Acrylic Painting on 16 x 20" stretched Canvas.
This is a Great larger size Painting lots of eerie Detail. Mean Green and Deep Blue and Black Hazy Backdrop makes this piece POP!!
I was inspired by one of my most favorite Movies for this one. Return of the Living Dead. I wanted to make some zombie like creatures and this one came straight out of my brain... No Bites I can assure you my brain is still here and not zombified lol.
I have this hanging in my living room as I enjoy looking at it very much. It is not in storage 🙂 Whome ever gets this Creep will enjoy it as much as I do. say good morning to it good night. As how its day was lol.
Sides are staple free and Painted Black.
can be hung up straight out of the box.
Please note the time and detail that went into this piece.
this is an original NOT a print!!
SAVE $25.00 today!!
Shipping for this large piece is included in price. for the U.S only. no international shipping options for this one sorry.