Abigail's Torso Acrylic Painting LARGE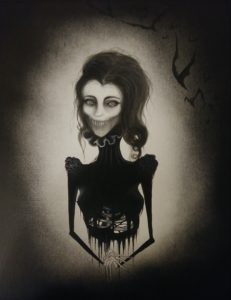 Abigail's Torso
Acrylic Paints on 16 x 20" stretched canvas
She is a Beauty. Lots of wonderful detail and much time went into her.
This lovely creature upon a closer look has super sharp teeth. Looks like this young lady was bitten once or twice by something blood thirsty and dead.
She has succumb to the living their axes and sharp tools. What is left of her is her lovely face and tormented torso.
A Creepy piece for sure. To have the Original will be mesmerizing and Haunting. I don't want to let her go. So you must like her as much as I do to take her home.
Shipping is include in Price for the U.S only.