Deadly Nightshade original 11 x 14 Painting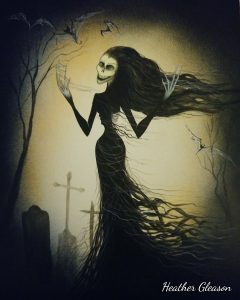 Deadly Nightshade
Original Acrylic Painting on 11 x 14" Canvas Panel
My first painting for the 2018 year. She is Dark and Lovely.
Beautiful details make this Dark Beauty pop!!
Bats flutter around her with Cobweb Wings.
Tattered clothing whips around in the wind along with her long Black hair.
She comes out at night as she errects and stretches her dried out bones to the night sky.
Shipping is included in Price for the U.S only
International shipping to Canada will be billed Seperate for shipping at $17.00
International shipping to the UK will be billed seperatly for shipping at $28.00