halloween
The Sleepy Hollow Event was rescheduled For Saturday October 29th Halloween Weekend.
We are suppose to get crumby weather on Saturday rain. and wind. Crossing my fingers for good weather next Saturday. So
If you were planning on coming out wait until next Saturday. I will have all sorts of New Paintings Including the ones above 🙂
See you Next Saturday October 29th
10:00- 4:00 PM 🙂 I will be behind Mr. Washington Irving next to the Receiving vaults right inside the cemetery.
Tickets are now available for my painting class at The Historical Sleepy Hollow Cemetery.
This year I will be offering Two Paintings.
A Beautiful Autumn themed Painting or A Creepy Full Moon Cemetery Scene. Throw in a Haunted House or Two or Three. A couple of Trick R Treaters running around you may want to jump right into your own painting and join in on the Halloween Shenanigans you just created. Spaces are limited as I like to move around the room work one on one with each participant. Attention to detail will be key in everyone's spooky creation. Halloween inspired Cupcakes, cookies and candy will be served with Local Made Apple Cider. The Scent of Burning Pumpkin Flesh and Halloween music will fill the room as you sit and Paint in the Cemetery chapel. Walk the Cemetery before class to conjure up some inspiration. Everyone will leave the Painting class with a Small Hand Crafted Spooky Thank You Gift Made by myself, paints, brushes and their very own Spooky Creation. After class Have dinner in town at one of  the local restaurants then take a Guided Lantern Tour of the Cemetery after the sun goes down. Make a Day or a Weekend of it. Sleepy Hollow also has a Very good Haunted Attraction The Horseman's Hollow, Travel 15-20 minutes north visit The Great Jack O Lantern Blaze. More than 7,000 Jack O Lanterns hand carved and set up in different themes through out Van Cortland Manor.  Please note All of the above you must purchase tickets in advance. Plan "a head" and make a Spooky Experience for you, your family and friends that you will never forget. click the link to purchase your tickets for my class today Spaces are Limited. http://sleepyhollowcemetery.org/  or direct link https://www.showclix.com/event/halloween-painting-with-heather-gleason-2016
Good Day to you my friends. I am writing to tell you about a new venture I will be working on with my Mother Ellen Gleason. As mother and daughter Artists we are now offering in home painting Parties. This should be a fun experience for all. Many of you that cannot take a trip to Sleepy Hollow can now host your own parties from home. GUESS WHAT!!?? ANY HOSTS or Hostesses Receive their ticket for free which means you get all your supplies for free and a Great Little Goodie bag at the end of the painting class for hosting an in home painting party. We will be offering all sorts of packages with different images to paint. I love the Gothic Halloween Look my mother likes folk art landscapes, light houses and such. Your party can paint one image or break the party(class) up in half. So if 1/2 of your guests want to paint a Haunted House painting and the other half wants to paint fruit and flowers the class can be split in two. 🙂  Packages start at $20.00 per person but do require a minimum for us to travel. No experience required but we do ask to ask friends that are interested in learning to create to participate. This will be a fun lhands on learning experience. Hostess this is like any party. You can treat it as such, provide your guests with Appetizers and drinks decorate if you like that is all up to you. I do promise a Great time and a final piece of art you will be proud to call your own. If you are interested in hosting a painting class in the Hudson Valley, and Beyond we will travel up to 100 miles depending on size of party. Please email myeclecticmind.gleason@gmail.com for more detailed info. You can also check out prices in my store of some of the images that are available per ticket. again message me if you are interested in a in Home Painting Class by My Eclectic Mind ( myeclecticmind.gleason@gmail.com) have a Frightfully Great Day everyone. 🙂
January 20th, 2015
Posted in art, cemetery, DIY, ebay, fairy T-shirts, gothic, halloween, halloween art, paintings, sleepy hollow, Uncategorized, witch art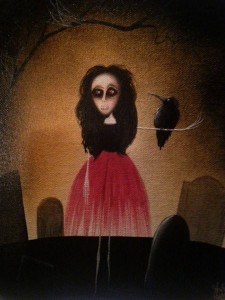 I will be running a Print Sale On Thursday Jan 22-23 Buy Two prints get one FREE! I will be posting NEW Art prints in my store front along with some older prints. If you buy 2 prints you get to choose a third FREE. Its a New Year I figured I would start it off with some Happy! 🙂 I am sure you will love the new Prints. See you back here on Thursday or Friday for the Buy 2 Get One Free sale!!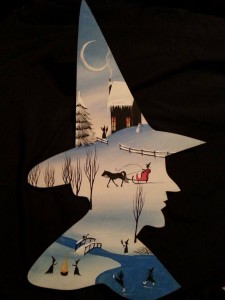 Happy New Year to all you Spooky Fiends out there!! 2015 is here what a lovely odd rounded year it is. I am looking forward to some fun Happenings this year!!! I have a lot of things roaring in my head itching to get out. BUT unfortunately I am limited to only few. I will be starting some oil paintings this week i am excited to pick up the medium again. It has been a few months and well. Winter time is the best time to get these oily creatures out of my noggin. I plan on working on some unique designs for some clothing this spring. I have clothing on the mind that includes unique dresses with Fun Gothic prints. Unique patterns that will have a touch of gothic whimsy, Colors that will pop and enhance the female form no matter what shape or size. I will also be offering T-shirt designs. These fashions will be available early spring.
I will continue to do Autumn shows around NY. I will be looking into a few new shows this year i just have to do a little more homework before i go along with the application process.
The Sleepy Hollow Cemetery is always fun and I really can't wait to return. I will be hosting another Art class this year. Still have to work out dates. I promise to have these set dates early 2015 so many of you can make your vacation time around visiting the cemetery. Classes are fairly small and are set behind the Cemetery gates in the Cemetery Chapel. The chapel is unique and only open to special events. I will be again setting up my tent weekend before Halloween right behind Washington Irving. My tent will be filled with Paintings, functional art pieces such as One of a kind jewelry boxes, Clocks, Candle holders, Prints, hand sculpted jewelry and more. So be sure and keep a small spot cleared in October for one of these fun dates. Come out and hang out with me in the Cemetery. I promise you WILL NOT REGRET IT!
OK done with Blogging for now. I will be back soon. I will be posting some photos of progress work of new oil paintings 🙂 HAPPY NEW YEAR!!!!!!!!
Halloween art will be making its way to Lincoln Center in NYC this October 😀
YES I will be at The Lincoln Center for performing Arts Autumn Art show October 4, 5th. For all you City folks it will be much easier to trek out and purchase my work in person here instead of traveling so far north. I will have a 10'x10′ tent filled to the brim with Dark art and Halloween goodies for you. I am excited to be in the hustle and bustle of NY once again. To be right in the midst of the ever growing art culture this city has to offer. Halloween is coming to town and I promise not to disappoint!! 🙂 Mark your calendars!!
May 9th, 2013
Posted in art, cemetery, ebay, gothic, halloween, halloween art, paintings, sleepy hollow, Sugar Skull, witch art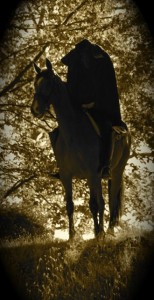 Tickets are now available for My Painting Class at The Sleepy Hollow Cemetery.
September 21st 2-5PM come join me at the Beautiful Historic Sleepy Hollow Cemetery for a Fun filled Spooky Painting class.
NO EXPERIENCE required just be open minded to paint Spooky. I will take MATURE teenagers for this class but would prefer to keep it as an 18  over. All supplies will be provided. We will be creating an 8″ x 10″ Autumn Themed Landscape Acrylic painting. I will mingle about and work with the class showing simple techniques and providing Spooky inspiration to create a lovely piece of artwork to take home with you. Some of you may make a day of this by kicking off your Fall or Halloween festivities with a lunch in town take the painting class then stroll the Cemetery. Be sure and bring along your camera!! Spaces are limited so get in on the fun while space is available. click the link to purchase tickets.  http://www.showclix.com/event/3761171
SEE YOU in The Cemetery!!!!