fairy T-shirts
January 20th, 2015
Posted in art, cemetery, DIY, ebay, fairy T-shirts, gothic, halloween, halloween art, paintings, sleepy hollow, Uncategorized, witch art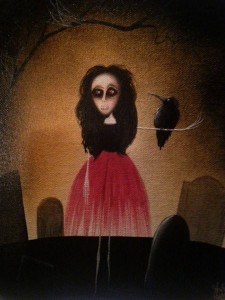 I will be running a Print Sale On Thursday Jan 22-23 Buy Two prints get one FREE! I will be posting NEW Art prints in my store front along with some older prints. If you buy 2 prints you get to choose a third FREE. Its a New Year I figured I would start it off with some Happy! 🙂 I am sure you will love the new Prints. See you back here on Thursday or Friday for the Buy 2 Get One Free sale!!
Good day to you.
I am February's Featured Artist on the UK's Voltcase Magazine.
stop by and read the interview. It was alot of fun answering all of Vm's questions. .
When your done with the interview read reviews on great music and other past featured artist's.
Only a few more weeks until HorrorFind. Be sure and get out to this great convention if you are in the Aldephi Maryland area. It's one big Horror Celebration.
CHANGES… I will be up dating my website shortly.I will be taking down some pics and adding new ones I am sure alot of you are bored with seeing some of the same things. I also have many new collectors photos that I have been meaning to post since October. Thank you to all the collectors that have purchased work from me and decided to share a few pics with the world. Your photos will be up shortly.
Future plans….This summer I will have more T-shirts and Limited prints available to purchase. The T-shirts I will be making in larger sizes due to a high demand up to medium-3X. So keep your eye out for great designs. Limited edition gilcee prints will also be available along with more postcards, mugs, and mousepads.
I am sure alot of you will enjoy the new designs that I will have to offer.
Write me a letter say hi.
Chat soon
Heather:)