October, 2018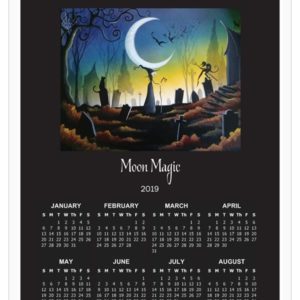 Halloween is only a Fee more days and I hope many of you got to do some fun Spooky things. If you have not yet. This weekend is the time to do it. Well depending on where you are. Where I live in NY we are suppose to get some nasty weather. Lots of rain and wind. An indoor Halloween party is my speed and that is what i plan on doing. I am goong as Hell Girl so i havento get my costume together. Are any of you making plans? Dress up? Decorating your home with the final touches for the big day? Wjatever it is as long as you are Happy and Having fun then do it!!!🎃
Having hurt my hand and wrist from painting way to much this year I had to take a break this month from painting. It came at a weird time being the busy season and all but i did need some rest. In my down time i was able to work on my print collection. Which over the years had been way to busy to do. Until now!! November I will have a Large collection of my prints available. Including some Calander posters like the one above. Lots of fun new things. Not to forget I will have my Black Friday Sale as well. I will continue to stock Prints on my website at all times as it is hard to continue to paint on a daily basis when I have so much joint pain. I do not want to paint so much that i can no longer paint. Which will break me in half. I love painting….I do need it!! Soo. November keep an eye here on my site for new products. Black Friday I will have my Online Black Friday sale along with some great deals and free items. 🙂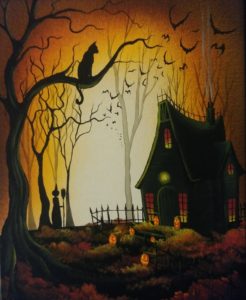 Hello Fiends.
It is October 1st. That means the Halloween Season has Just begun. Lots of Spooktacular events happening all over.
I have plans for some Fun Spooky Happenings this fall. Including my Painting class at the Sleepy Hollow Cemetery this Saturday. Tickets have sold out. But I will be working with The Events Director at the Sleepy Hollow Cemetery for another Fun Class if possible in the coming weeks.
I will have TWO more Facebook Pop Up Sales this month on Facebook. one will be this Thursday October 4th at 5PM est. The Second Pop Up Will be October 11th at 5PM est. time on Facebook. After that I need to rest and Get in on all the Spooky Fun that everyone seems to be doing besides me every year!! lol…I am ALWAYS PAINTING!! I also hurt my Painting Hand which is leaving me with very soar joints and two hurt Painting fingers. the pain radiates down into my wrist. SOOO it will be rest for my hand and lots of Spooktacular Fun for me! What are the Spooky Happenings around your area this year? If you are reading this and are thinking nothing or I have no idea. look it up on the internet. I am sure there is something you can plan besides picking Pumpkins or apples or watching the leaves change colors HEHEHE! Yeah they are fun we all do it. BUT there has go to be something more. Be sure and look up some local Haunted Houses in your area, get in on some of the Live Ghost tours or Hunts! Anyways I hope you all have something fun Planned for October 🙂
On another note. I would like to thank everyone that stopped by my booth this past weekend while attending The Hudson Valley Garlic Festival. I met a lot of new faces this year. I almost sold out Completely which is AWESOME! The Weather this year was absolutely PERFECT!! It i always so much fun doing the Garlic Fest. I hope everyone that came on out had a Fangtastic time!!! I hope to see you all next year!! With the same exact lovely weather 🙂
ok so if you are visiting my site for the first time. Click my facebook link to the right of your screen. Follow me on Facebook. I try and get on there at least once a week. I am also on Instagram if you wanted to follow me there it is Myeclecticmind as well. 🙂 I am on Instagram a lot as I do not have to pay the company to show my fan my posts or pictures. SO click away and start following to stay in touch . I have some fun painting classes coming up in the works so keep and eye and ear out!!
So long for now Fiends.