Halloween Events 2018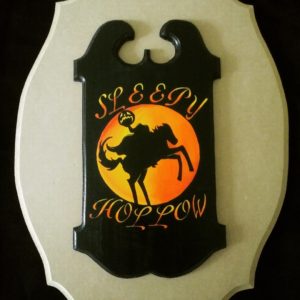 Hello Halloween Fiends. It has been a while since posting to my blog and website. I do apologize. But all good things come to those who wait. Especially the CrEePy kind. My Mind, eyes and hands have been painting feverishly everyday. Creating all sorts of goodies for you. A mix of Goodies I may add. It is hard to pick a theme this year. I have been all over every corner of my wicked webbed brain sweeping out ideas.
Friday September 14th 7PM est. I will be having my Haunted Halloween Website Sale. All the goodies I have been working on will be offered here on my website. From Vintage timeless Halloween colors and images, to Super Creepy Dark art. I will have a variety of clocks in different sizes and price range of course. Coffin boxes, bat and Black cat key ornaments, Jack o lantern sculptures, light up Wood Paintings, ouija boards, one of a kind collectible Halloween Party horns, limited pieces from my clothing line, Canvas paintings and MORE!!! So mark your calanders Friday September 14th 7PM Est. Time. Links will be posted from my Facebook page and my Instagram account. Don't moss oit on this one. This is the Biggie with the BEST!!
September 29-30th Hudson Valley Garlic Festival
Cantine Field Saugerties, NY
I love this show. I am sure if you have made it here you love it just as much as me. Well I love it because I get to meet many of you and it is a TON of FUN. Did i mention the Garlic? Humans are safe from Vampires on this weekend in Saugerties. I will have a Large tent set up "POp-UP shop decorated with my creations. If you miss my online sale and are in the Saugerties area on September 29-30th be sure and stop by and pick something SpOoky up yourself and say Hello. Mention my blog and receive a FREE 8 x 10" print of your choice at the festival. You must mention my blog. 🎃
October 6th. 11-2pm.
Painting class with Heather Gleason at the Sleepy Holow Cemetery.
This year I have decided to pay tribute to the Legend of Sleepy Hollow. I will be showing Participants in my class how to paint a Wood Tavern sign with the Terrorizing Headless Horseman on it WeEeWoOo!! Photo is above headling this blog post. Ticket sales will be available up on the Sleepy Hollow Cemetery website September 1st. I have decided to do the class a little earlier in the day so your day is not blocked of other Spooky activities that will be taking place during this wonderful SpOoKy Season.
So if you have been wanting to participate in this class be sure and get your tickets early. Tickets are limited.
Well that is all for now. I will be posting more very shortly. But for now it is back to work for me and my paint brush. Tata for now.
🎃👻🎨