November, 2017
Holidays are coming.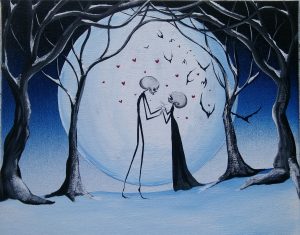 I will have Pop Up Sales weekly on Facebook.
I will also be updating my website store right here often once a week with new Artwork.
To view pop up sales you must have a Facebook account. If you look to the right at the top of the page you will see my Facebook page. click the like button and start following me. I will have random POP up sales. Most of the time the pieces are 8 x 10″ Canvas panels.
Larger pieces or detailed Wood Pieces will be listed here in my website store.
If you are looking for something special for that undercover Spooky Lover in your life. Check out my art and gift them a piece they may Love you for it.
Head over to Facebook and like my page. 🙂
Thank You to everyone that stopped by my website on Black Friday! A BIG Thank You to those who purchased from my website store! I really appreciate your support and business. It is collectors like you that keep me going and help make me as a working full time Artist Survive! THANK YOU!
I will be working tomorrow Sunday Nov 26th getting all your goodies Packaged and ready to send out. to all those that qualify for free paintings you will be contacted via Email over the next few days to go over custom details of your free Paintings. 🙂
Cyber Monday I will also be hosting a Sale of sorts. It will not be as Big as Black Friday but I will have some fun giveaways and great Deals! So be sure to stop by Cyber Monday November 27th all day!!! New Paintings and MORE!!!
thanks again
Hello Friends. Black Friday is almost here. Stop by my website November 24th starting 6AM I will have a large selection of of original Paintings, functional art, Tiny Sculptures, Print Bundles and more. Orders will receive free goodies too!! Stop by check it out.