Ghosts Of Christmas Past Holiday POP UP SHOP November 26th
Hello Friends.
I hope everyone enjoyed their Halloween. I know I did!! The first year I went out trick R Treating with my Kids and scored a Big bag of candy.
I bought a Sheet cut holes for eyes, mad a cardboard sign to wear around my neck saying "I got a rock" I was Charlie Browns Ghost lol. No one knew I was a kid and I TRICKED THEM ALL! I did not want the night to end but it did and I am still very happy and content today as I type up my blog. I'm Happy to see my Children so Happy on Halloween. Them watching Mom Trick all of the adults as they pour candy into my bag. My Daughter Laura and I had a bet going to see who can snatch the most candy. She beat me with 126 pieces me at 115. bet was winner would be able to chose from the lower number stash anything they want and she snatched a bag of gummy Bears lol. OK enough about my night. On to some News about my Holiday Bizarre, Pop up show, Open Studio what ever you want to call it.
This years theme for the 2016 Holiday Season is Ghosts of Christmas Past.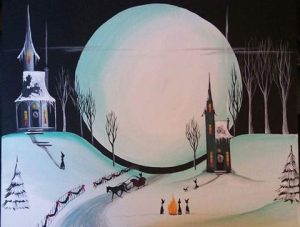 Lots of Cool Black, White and Silver themed pieces. I will have Reds and Greens too so no worries there. I will be offering Hand sculpted and painted wood Ornaments. Vintage Santa Phones, Alice and Wonderland themed pieces, T-Shirts, Hand Painted Wood Boxes. Hand Painted stockings, Jewelry, Witchy Wonderland Pieces with Both Victorian villages and Colonial villages, Snowy moons, Krampus, Black Cat Christmas Trees and MORE!! My Bizarre / Open Studio will be ONE day only! November 26th 12 NOON- 5PM Small Business Saturday so Be sure and Stop by some of your favorite local shops including mine. If you make a purchase at my Ghosts Of Christmas Past Bizarre / Pop Up shop you will receive a FREE Hand Sculpted Ornament. Mark Your calendars it will be a Unique Holiday Shopping Experience. These New Holiday Items will be available for Sale at 4PM SAME DAY NOVEMBER 26th ONLINE if you live far away to make it out. So no worries far away Friends you will get the Goods too 🙂 MARK YOUR CALENDARS FOR TWO VERY IMPORTANT DATES.
I Will have a Black Friday Sale this year as Well. This sale will have some Left Over Pieces From the 2016 Halloween Season. These Paintings will be marked to SELL so Be sure to Log on Early Morning (MY BIRTHDAY NOVEMBER 25th) 8 AM eastern time to take advantage of the Sale. up to 60% off regular Prices. More info on this sale will be posted very SOON!