November, 2016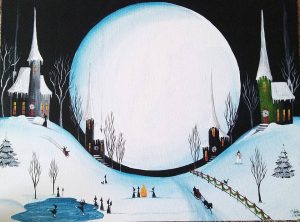 Good Early Morning to you!
Less than a week away from my Black Friday Sale. Many of you patiently wait for this sale to catch a great buy on some Paintings I have left over from this past Halloween
Season.
I also have some Very Pretty and Unique Items to add to the Sale along with some Witchy Wonderland Pieces. Witchy Wonderland Paintings will be on canvas, Unique Large Ornament Shaped Wood Pieces with Big Black Glitter Bows, Black Snow Flakes lined with Black ultra fine Glitter, Wood Sleighs, hand Painted Christmas stockings and more. I have hand crafted wood Black cat and Cheshire cat Key Ornaments. No two are a like. Different Colors, shapes some with Glitter some without. My Black Christmas Tree is filled with Little Black Cat Key Ornaments I almost do not want to give them away. I have Little Krampus Ornaments as well…. well my version of the little Mischief Red Devil. I hand sculpted Little White Pumpkins then dusted them with Ultra Fine Glitter. Perfect for the Winter Season. Hand crafted Boxes, Girly Paintings. and more. You just have to check it out on Black Friday to see what is available for yourself.
Package #1 If you spend $60.00 or over $60.00 you will Receive either 2 Rotten hand Sculpted Pumpkins (orange) or 2 small White Glitter Pumpkins for the Winter Holiday Season. $15.00 value
Package #2 If you spend $100.00 or over $100.00 on my website you will receive 1 FREE Small White Glitter Pumpkin and 1 mini Coffin with the Headless Horseman on Front or a Primitive Silhouette of a witch and Crescent Moon. color Choices for Both will be Orange, Blue, Pink, or Eerie Green !! Value of $25.00
Package #3 If you spend $200.00 or over $200.00 you will receive a FREE CUSTOM 8 x 10″ Skeleton Painting Blue or Red hazy Backdrop option. this means you choose if the skeleton is a female wearing a black dress or a male wearing a black suit. You can add 1-2 Black Cats or a Dog instead. Bats or Black Birds. Cemetery if you like. a spooky shed or haunted House lots of fun options 🙂 OR a Witchy Wonderland Landscape Painting (autumn or Winter themed) You must only pick 1 theme $60.00 value
Package #4 If you Spend $300.00 or over $300.00 you will receive a FREE CUSTOM 11 x 14″ canvas panel Painting of your choice of Witchy Wonderland with Little Witches playing under a HUGE MOON skating, sleighing, decorating a Christmas tree, ect. OR a AUTUMN LANDSCAPE Witchy Wonderland Painting. Witches Playing, dancing, roasting marshmallows over a bonfire Autumn colored trees little Houses HUGE MOON!! OR a Headless Horseman Painting Choice of RED/Orange or Deep Blue/Black Hazy Backdrop Horse can be either White or Black. In a Cemetery, pumpkins scattered about, little Devils, fog, skeletons can be added its your custom painting 🙂 You must only pick 1 theme $150.00 value
Package #5 If You spend $500.00 or over $500.00 You will receive 1 FREE custom 12×16″ painting of your choice anything Goes Haunted house, landscapes, Dark Art, surreal Girly and More. AND there is more….
3 medium Hand Sculpted Pumpkins either traditional Orange Pumpkins on wood logs or winter White Glitter Pumpkins and a Print Bundle (my choice) $215.00 Value
Please NOTE that once you have Checked out and Payment is received. You will receive an email from me that night or next morning to go over details of your Free items. Please NOTE only 1 FREE package Per Order. If you spend $300.00 does not entitle you to all of the above free items. You will receive only (1 FREE CUSTOM 11×14 Painting at $150.00 value if you spend over $300.00). Same goes for Other Packages. If you spend $500.00 or over $500.00 you will receive the #5 package only!
YES your Artwork/ Order along with your Free items Will be delivered to you Before Christmas. This Sale will only run for a Few days and then will be taken down to ensure your orders will arrive on time for gift Giving.
STOP BY…… Black Friday November 25th, Don't miss out on all the Lovely Goodies that could be Yours!!!
Hello Friends.
I have decided to Keep my Online Black Friday Sale and Small Business Saturday Sale Going but Open House will be cancelled. No worries you can purchase art here November 25th and 26th via here through my website.
After the Holidays I will be taking at least a Month off to clear my mind and ready myself for some new Projects. Including trying to tackle this clothing Line. I have decided to Purchase the machines myself and keep the cost down in the long run for the clothing that I make. The average Person cannot afford to Purchase a $60.00-$80.00 tank top for the summer. Hiring people out of house is very expensive to sew garments. Some not so expensive but timing is off when garments are needed. I will be teaching myself how to operate an entire new machine that I am not used to operating. It's no ordinary sewing machine to say the least. I am hoping to make these fun garments for most of you Under Cover Spooky Girls and keep them very affordable by doing it myself. 🙂
I will be working on some larger oil paintings this winter for Gallery Shows here in the NY area. These will be out of the norm of Halloween and sticking to the Dark art Theme. Either way when certain pieces are finished they will be uploaded to my website and Private showings here in NY to Purchase will be available by appointment.
I will be back on soon to talk about the Black Friday Sale. Have a Great Day Friends 🙂
Hello Friends.
I hope everyone enjoyed their Halloween. I know I did!! The first year I went out trick R Treating with my Kids and scored a Big bag of candy.
I bought a Sheet cut holes for eyes, mad a cardboard sign to wear around my neck saying "I got a rock" I was Charlie Browns Ghost lol. No one knew I was a kid and I TRICKED THEM ALL! I did not want the night to end but it did and I am still very happy and content today as I type up my blog. I'm Happy to see my Children so Happy on Halloween. Them watching Mom Trick all of the adults as they pour candy into my bag. My Daughter Laura and I had a bet going to see who can snatch the most candy. She beat me with 126 pieces me at 115. bet was winner would be able to chose from the lower number stash anything they want and she snatched a bag of gummy Bears lol. OK enough about my night. On to some News about my Holiday Bizarre, Pop up show, Open Studio what ever you want to call it.
This years theme for the 2016 Holiday Season is Ghosts of Christmas Past.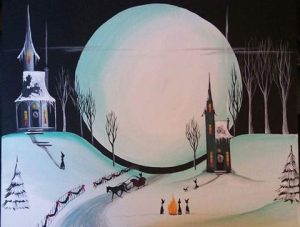 Lots of Cool Black, White and Silver themed pieces. I will have Reds and Greens too so no worries there. I will be offering Hand sculpted and painted wood Ornaments. Vintage Santa Phones, Alice and Wonderland themed pieces, T-Shirts, Hand Painted Wood Boxes. Hand Painted stockings, Jewelry, Witchy Wonderland Pieces with Both Victorian villages and Colonial villages, Snowy moons, Krampus, Black Cat Christmas Trees and MORE!! My Bizarre / Open Studio will be ONE day only! November 26th 12 NOON- 5PM Small Business Saturday so Be sure and Stop by some of your favorite local shops including mine. If you make a purchase at my Ghosts Of Christmas Past Bizarre / Pop Up shop you will receive a FREE Hand Sculpted Ornament. Mark Your calendars it will be a Unique Holiday Shopping Experience. These New Holiday Items will be available for Sale at 4PM SAME DAY NOVEMBER 26th ONLINE if you live far away to make it out. So no worries far away Friends you will get the Goods too 🙂 MARK YOUR CALENDARS FOR TWO VERY IMPORTANT DATES.
I Will have a Black Friday Sale this year as Well. This sale will have some Left Over Pieces From the 2016 Halloween Season. These Paintings will be marked to SELL so Be sure to Log on Early Morning (MY BIRTHDAY NOVEMBER 25th) 8 AM eastern time to take advantage of the Sale. up to 60% off regular Prices. More info on this sale will be posted very SOON!