January, 2015
January 20th, 2015
Posted in art, cemetery, DIY, ebay, fairy T-shirts, gothic, halloween, halloween art, paintings, sleepy hollow, Uncategorized, witch art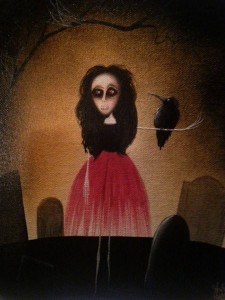 I will be running a Print Sale On Thursday Jan 22-23 Buy Two prints get one FREE! I will be posting NEW Art prints in my store front along with some older prints. If you buy 2 prints you get to choose a third FREE. Its a New Year I figured I would start it off with some Happy! 🙂 I am sure you will love the new Prints. See you back here on Thursday or Friday for the Buy 2 Get One Free sale!!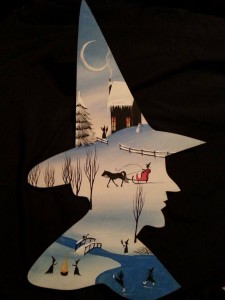 Happy New Year to all you Spooky Fiends out there!! 2015 is here what a lovely odd rounded year it is. I am looking forward to some fun Happenings this year!!! I have a lot of things roaring in my head itching to get out. BUT unfortunately I am limited to only few. I will be starting some oil paintings this week i am excited to pick up the medium again. It has been a few months and well. Winter time is the best time to get these oily creatures out of my noggin. I plan on working on some unique designs for some clothing this spring. I have clothing on the mind that includes unique dresses with Fun Gothic prints. Unique patterns that will have a touch of gothic whimsy, Colors that will pop and enhance the female form no matter what shape or size. I will also be offering T-shirt designs. These fashions will be available early spring.
I will continue to do Autumn shows around NY. I will be looking into a few new shows this year i just have to do a little more homework before i go along with the application process.
The Sleepy Hollow Cemetery is always fun and I really can't wait to return. I will be hosting another Art class this year. Still have to work out dates. I promise to have these set dates early 2015 so many of you can make your vacation time around visiting the cemetery. Classes are fairly small and are set behind the Cemetery gates in the Cemetery Chapel. The chapel is unique and only open to special events. I will be again setting up my tent weekend before Halloween right behind Washington Irving. My tent will be filled with Paintings, functional art pieces such as One of a kind jewelry boxes, Clocks, Candle holders, Prints, hand sculpted jewelry and more. So be sure and keep a small spot cleared in October for one of these fun dates. Come out and hang out with me in the Cemetery. I promise you WILL NOT REGRET IT!
OK done with Blogging for now. I will be back soon. I will be posting some photos of progress work of new oil paintings 🙂 HAPPY NEW YEAR!!!!!!!!