November, 2014
SNEAK Peek at Some of the goodies I will be offering up this Friday November 28th BLACK FRIDAY!!! I will be offering over 45 NEW  items in my store! All at VERY LOW PRICES AND FREEEEEE SHIPPING for U.S only. If you Spend $75.00 or more You get to Choose (1) 8″x10″ print from my Store for FREE!! If you spend over $135.00 on Black Friday You will receive a $25.00 gift Certificate to use toward your next purchase or when ever you please throughout the year on my website. 🙂 When placing your order PLEASE VERIFY your Mailing Address in the comments section when checking out to speed up processing of your order. PLEASE DO NOT SKIP THAT STEP!! ALL orders from my site will be Shipped out Monday Dec 1st. December 2nd I will be closing my shop down I will reopen AFTER Christmas. This gives me more time to work on some more time consuming projects. PLus I like to relax a little around Christmas and spend time with my Family. DON'T worry I will be blogging pics and what I am working on throughout the winter. I will also be posting on Facebook like I normally do. 🙂 SO I can't wait for you to see what I have to offer on Black Friday I am sure you will be Happy Vampers! See you BLACK Friday BRIGHT AND EARLY 6AM Est Time!!!! if you shop earlier you may miss out on items I am currently uploading so Wait until 6AM so you get to view all the goodies. See you Friday!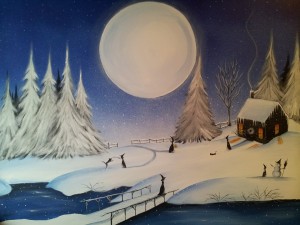 Good Morning Friends! I have been up since 3 AM painting as usual. This time i was painting some Holiday, Christmasy type things. Some Christmas Table Runners with some glitter Yah I like them! I may keep one for myself 🙂 Any whooo I will be at one my Craft Show this year. In fact it is a Holiday Craft show in the next town over. I will be at St. Josephs Church in New Paltz NY today and tomorrow Nov, 22-23. I will have lots of Holiday Paintings, along with my everyday My Eclectic Mind Spooky/weird/fun paintings lol. If you love the winter themed paintings like the one posted here I will have about 6-7 paintings and 3 smaller Autumn themed pieces, Girly pieces, Mimi pieces and of course some Spooky pieces. Stop by and say Hello today or tomorrow and grab some goodies at great prices. 🙂 While you are in the area be sure and walk around the village they have great little shops you may like. If you are unable to attend. DON'T forget about my BIG BLack Friday SALE coming up on Nov. 28th lots of Great offerings and clearance items from the Halloween, Autumn Season. ok back to painting. Hope to see some familiar faces this weekend. Have a Good one, keep warm!!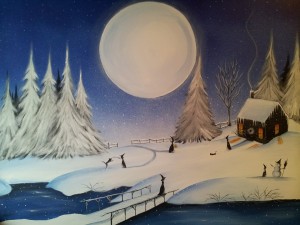 Good Day to you my friends. It has been getting colder and colder here in NY. I have been bundled up while painting and blogging. Time for Hot Cocoa (Don't Forget the Whip Cream)! I have had a number of images on my mind and trying to get them out has been difficult. Especially with a wild little 2yr old running around 😉 I have been painting a lot of Witchy Wonderland scenes. I will have some smaller affordable pieces available on Black Friday. This will be my LAST and FINAL SALE of the 2014 Year. The BIGGEST SALE of the year!! The Perfect time for Your Holiday Gift Shopping. I will have a small amount of paintings available at local shops here in NY. I will have 4-5 Paintings at BSQ in BEACON. All Witchy WOnderland Themed. I will also have paintings hanging at Moxie Cup in New Paltz. I will have a mix of Paintings for sale, Witchy Wonderland landscapes, Mimi pieces, and some gothic girly pieces. If you are local to Beacon, NY or New Paltz, NY stop on in to one of these Specialty coffee shops and check out what I have to offer. Be Sure and Mark your calendars log on to my website EARLY NOVEMBER 28th. I will have a TON of Paintings, Prints, Boxes, Witch hats, Jewelry, Stocking Stuffers,  and more for sale. First come first serve if you see something you like grab it while it is still available most of the paintings i will have on sale are one of a kind some pieces will never be printed. If you see something you like but would like to do a layaway plan I am open to the idea just email me before purchase so we can work out an arrangement of payments. Price range for Black Friday Sale $5.00-$450.00 If you spend over $135.00 in my store you will receive a $25.00 gift certificate to use toward your next purchase at the My Eclectic Mind website store. Stay tuned as I will be posting more Black Friday Bonuses and giveaways!! 🙂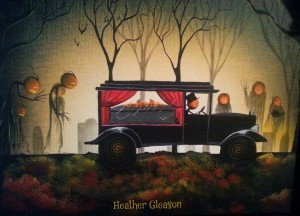 The End of the Halloween Season is always a Sad one for many. I had a Great time with Family and friends this year. My son is 2yrs old he got the hang of carrying his batman bucket around running door to door with the other kids trick r treating for that candy! That put a smile on my face watching my 3 kids have a great time. I just love it!  I have a lot of new things coming up for the following 2015 Odd year. I am excited about it actually. I will be adding some left over paintings from the Halloween Season at discount prices today in my website store get them while they are available. OH and Mark your Calendar for the BIGGEST and BLACKEST Friday of them all NOVEMBER 28th Black Friday SALE!!. Many of you save your pennies for My Black Friday Sale. This year I will have Lots of Fun Paintings, Prints, Jewelry, Christmas Ornies, Christmas Table runners, T-shirts and more. Don't miss out! Get your loved ones what they want. If you know they Love SpoOkY stop by here November 28th BLACK FRIDAY and pick up something that will make them smile at a GREAT price. I hope all of you had a Fangtastic Halloween. Remember Its Always Halloween Here. Stop by often and see what new things I have created.