Show dates for 2014 Season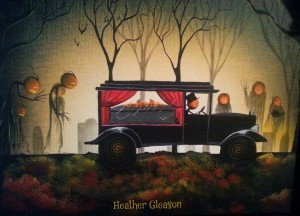 "End Of Season"
Good Mourning Boils and Ghoulies! Labor Day Weekend is here that means Fall is creeping in. The night's are getting cold here in NY. Not the bitter winter cold  but that old familiar just right sweater weather warm blankets cozy warm i'm so Happy Autumn is here cold lol. Shows are creeping up on me along with the release of my First ever catalog. I am listing the dates of the shows I will be attending this year here in NY.
September 27th….. Banktober Fest 7P at BSQ in Beacon NY. I will not be attending the party but I will have some New Fun Spooktacular Works hanging in the Shop. If you live in the Dutchess County Area or will be driving through Beacon stop by and take a look you may want to purchase something.
September 27th-28th The Hudson Valley Garlic Festival Gates open at 10 am and run till 5 PM both days. This is my most Favorite show of the year. Meeting lots of people, Eating all that yummy food, Music, Arts and Crafts Vendors, Lets not Forget the GARLIC,GARLIC, GARLIC!! I will be in my regular spot right at the (T) on the map. Hope to see many f you at Garlic Fest.
October 4-5th Lincoln Center for the Performing Arts Manhattan, New York City. This is my first year attending this show.   I am very excited about this show and look forward i meeting new people. I know a lot of my city friends will come out and say hello. I will have a 10'x10′ FILLED with Spooktacular, weird, Fun Goodies. 🙂
October 18th 11Am-6PM Wappingers Falls Halloween Parade and Festival. This is the Areas First Halloween Parade and Festival all HALLOWEEN themed. I will have a 10'x10′ tent filled with Hand painted items, Spooktacular Prints, T-shirts, Books, and more. I am sure this will be a VERY FUN event for ALL. Be sure and come dressed in your best costume as the Festival will have a Costume Parade, all sorts of contests, games, music, arts and crafts, local vendors and food.
More shows are being added please check back soon. 🙂