August, 2014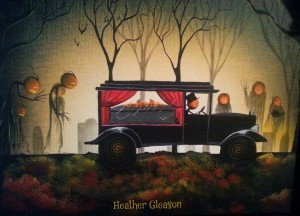 "End Of Season"
Good Mourning Boils and Ghoulies! Labor Day Weekend is here that means Fall is creeping in. The night's are getting cold here in NY. Not the bitter winter cold  but that old familiar just right sweater weather warm blankets cozy warm i'm so Happy Autumn is here cold lol. Shows are creeping up on me along with the release of my First ever catalog. I am listing the dates of the shows I will be attending this year here in NY.
September 27th….. Banktober Fest 7P at BSQ in Beacon NY. I will not be attending the party but I will have some New Fun Spooktacular Works hanging in the Shop. If you live in the Dutchess County Area or will be driving through Beacon stop by and take a look you may want to purchase something.
September 27th-28th The Hudson Valley Garlic Festival Gates open at 10 am and run till 5 PM both days. This is my most Favorite show of the year. Meeting lots of people, Eating all that yummy food, Music, Arts and Crafts Vendors, Lets not Forget the GARLIC,GARLIC, GARLIC!! I will be in my regular spot right at the (T) on the map. Hope to see many f you at Garlic Fest.
October 4-5th Lincoln Center for the Performing Arts Manhattan, New York City. This is my first year attending this show.   I am very excited about this show and look forward i meeting new people. I know a lot of my city friends will come out and say hello. I will have a 10'x10′ FILLED with Spooktacular, weird, Fun Goodies. 🙂
October 18th 11Am-6PM Wappingers Falls Halloween Parade and Festival. This is the Areas First Halloween Parade and Festival all HALLOWEEN themed. I will have a 10'x10′ tent filled with Hand painted items, Spooktacular Prints, T-shirts, Books, and more. I am sure this will be a VERY FUN event for ALL. Be sure and come dressed in your best costume as the Festival will have a Costume Parade, all sorts of contests, games, music, arts and crafts, local vendors and food.
More shows are being added please check back soon. 🙂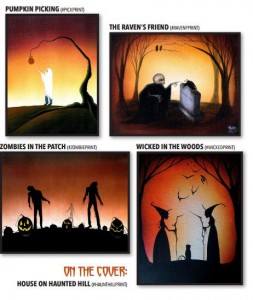 The Haunted Home Catalog will be distributed September 10th. If you would like your Copy email us for  your copy. EVERYTHING in the catalog is under $65.00 This is my first year doing a catalog. I am happy with the outcome. My Cousin Christina Gleason whom resides in Boston created the entire layout of the catalog. That meant ME giving up control of design. I AM GLAD I DID…..SHE DID A WONDERFUL JOB. Anyone that receives the catalog will agree I am sure 🙂 If this does well this year i may do a larger one next year. I have added TWO people to work with packaging and shipment of all Haunted Home Products and any products sold on my website during the fall season. This helps eliminate any mistakes with orders and having all items in stock for each order and a GREAT turn around in Shipping time. I have heard from many of you. I understand that we live in a tough time and retail items that you love are becoming hard to purchase. This catalog was made specifically NOT to break the bank. I have created some affordable Fun items that are Hand crafted and will bring a smile to your face. Some items in the catalog are not mine but I have added them to specifically add to the ambiance in your home for Halloween. So if you have not yet ordered your catalog. Email us your mailing address now for your shipment in September. We are still looking for Hosts for the Haunted Home Parties. If you would like to become a Host email us for info 🙂 Hosts get Great Discounts and FREE Halloween Decor just for showing off our catalog!! I guess that is it for now. Have a Spooktaular Day!!!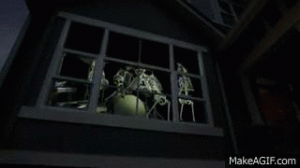 Be sure and Book your Haunted Home Party! The Above short GIF is an example of some of the Fun Halloween Digital FX Props that will be available in the Haunted Home Catalog. So many more unique items you do not want to miss out on. Email myeclecticmind.gleason@gmail.com to find out more info or to book your party date.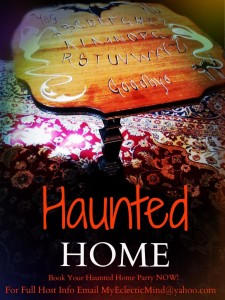 SOMETHING Fangtastic for all my Ghoulies out there!! HAUNTED HOME is  HERE! A New Venture of mine.A Catalog Filled with Spooktacular art Prints, Limited Primitve Paintings, Collectible Ceramic Art Plates, Affordable Furniture, Halloween Props and SOOO Much more!!!
SO let me tell you a little about Haunted Home. I have been working on this catalog and affordable products for the past 12-14  months. I wanted to offer collectors some Spooktacluar Home decor and fun products for Halloween in a FUN WAY! I am looking for some Horrifying, Fangtastic Hosts all over the United States and Canada to host a Haunted Home party in YOUR HOME! Each host will book a party. Set the party up in their home Spook it up the way you like it and invite your most Favorite Ghoul Fiends and Familiars!! Make some Gruesome Grubb put on some scary sounds for your party show off your skills and love for Halloween your way. We will send you catalogs and Free Party Gifts for your Guests as prizes for some Fun Games. Keep your guests Entertained. Hosts will show off the catalog so their Fiends can purchase some Awesome Halloween Decor for their Haunted Homes as well. The more the HOST sells the Bigger the discount AND FREE ITEMS the Host will receive in return. HOSTS will get to choose from UNique items only offered to them through the My Eclectic Mind website. So If you love the Art Of Heather Gleason and have a fondness for Spooky creative decor then you will love this Great Catalog and want to host a party. Booking is taking place NOW-September 10th. Hosts must have their parties anytime starting Septemebr 12-October 24th to ensure their guests receive their goodies in time for Halloween. The sooner you host your party the sooner you get to spook up your Haunted Home. Hosts will receive their catalogs and FREE Game Gifts for their Guests 1 week prior to their parties. Booking is $5.00 (TOTALLY REFUNDED) at time of Party. This ensures that people are having parties and we are not sending out free goodies all over the country and Canada lol. If you would like to skip the $5.00 Booking fee and not receive Free Gifts for your guests we can do that as well. All you will receive are catalogs and order sheets. BUT YOU STILL HAVE TO EMAIL US your Mailing address and Date of your Party to receive your catalogs and order sheets. Show your familiars and fiends you are a Halloween Queen or King by Hosting your unique Haunted Home Party NOW! Email MyEclecticMind.Gleason@gmail.com to book your party and or for questions.  DON'T MISS OUT BOOK NOW…Booking your Party Deadline is September 1oth!!! 🙂