March, 2014
Hello Boils and Ghouls.  I have signed with the Parcai Design Company out of Texas. I am very excited to be working with this company and Look forward to many fun years ahead. They will be representing my artwork at the  Surtex show May 18-20 at the Jacob Javits Center in NYC.  I will be at the show Monday May 19th for one day only.
I have just signed with the Keka Case company out of San Francisco that makes Funky Stylish Covers for the iphone, iPod, Galaxy and Kindle Families. I will be creating 10 different designs all with the Gothic, Spooky, Whimsy touch of course. Brilliant colors that will pop and make your Cell phones Spooky Stylish!! Yes Flowers are pretty, ribbons are cute but for some of us it does not speak who we are. With my designs I promise to bring the edge out! I will be posting a link to the Keka Case company in my store front when my designs become available to purchase. If you are interested in Licensing my artwork and would like to see my designs please email me and I will send you all the info you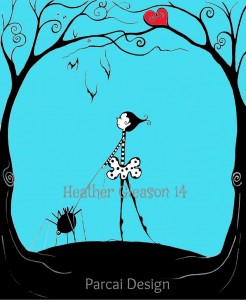 This is just one of the newer designs that I have available. Keep an eye out I will be posting more info on products soon.