January, 2014
Halloween art will be making its way to Lincoln Center in NYC this October 😀
YES I will be at The Lincoln Center for performing Arts Autumn Art show October 4, 5th. For all you City folks it will be much easier to trek out and purchase my work in person here instead of traveling so far north. I will have a 10'x10′ tent filled to the brim with Dark art and Halloween goodies for you. I am excited to be in the hustle and bustle of NY once again. To be right in the midst of the ever growing art culture this city has to offer. Halloween is coming to town and I promise not to disappoint!! 🙂 Mark your calendars!!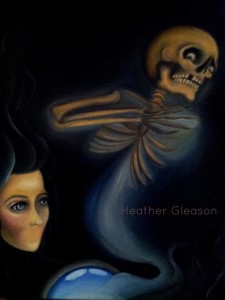 Happy Friday EVERYONE!!
I have been painting a lot the past week. I started this Oil painting. I still have more to add to it and I think its coming out exactly as I see it in my noggin lol. I even have the perfect frame in mind for it. This piece is a larger 16″ x 20″ canvas painting. Its taking some time to finish but in the long run it will be pretty awesome when finished 🙂
I will be designing some hand painted Women's shoes. So keep your eye out for them. I will have a limited quantity. These will be one of a kind. Each hand painted by myself. So if you like the shoes get them as soon as you see them They will go super quick. If you are visiting my website and are not yet a fan of mine on Facebook. Now is the time to do so. Follow my daily work and updates on when I  will have paintings and prints for sale. SHow dates will be posted right before spring. Facebook is the best way to keep up with my current work 🙂
Have a Spooktacular day everyone!!!!!! 🙂
Happy New Year everyone. I hope everyone had a Wonderful Holiday! Its a NEW YEAR and its back to stirring the pot for some new things. I have been gearing up to see what shows I will be doing this fall. As soon as I get word back from these Promoters I will start posting them for everyone to see. I am aiming to do another Painting class this year at the Sleepy Hollow Cemetery. Meetings and talks will be held around March. As soon as dates are set I can post the info for everyone this way many of you can plan your vacations or visit to NY right in time for Autumn. I had GREAT reviews from last years class many of you are looking forward to another one 🙂 Very exciting. As of right now I am taking a break from orders and shows for a few months so i can work on some larger oil pieces.I will be posting photos to my facebook fan page if you would like to keep track of them.
I will be designing a collection of T-shirts this year in a variety of sizes. The T-shirts will be available on my website in limited quantity. They will be coming out mid August can't wait!! 🙂
ok stay warm everyone I will be back soon!!!!