Sleepy Hollow Cemetery Halloween Art Fair this Weekend!!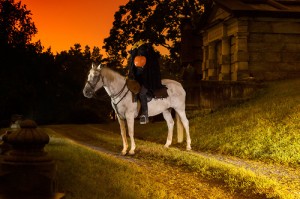 6 more days until Halloween!!! YES Boils and Ghouls 6 more days. If you have been slow with your Horrific Halloween Celebrating and need something to do. Come out to The Sleepy Hollow Cemetery this Saturday Oct 26th 9am-4:30Pm. I will have my tent set up inside the cemetery with Original Paintings and Prints. I will have Jewelry along with some Fun Beaded Spiders. This is my last meet and greet show of the year. I can't wait to get back to the cemetery and wander around and look at all of its Beautiful headstones and hidden mausoleums. What will I catch on camera this time? Maybe the Headless Horseman will make an appearance. Come on out make a day or a weekend of your visit lots of FUN Spooktacular things to do.
For those of you that would like to get to know me a little better. I did an interview with Mydnite Reader.com follow the link to read the interview it was fun and I answered some questions I do not get asked often.
http://www.midnytereader.com/2013/10/interview-with-heather-gleason-dark.html