Day Of The Dead Girly Collection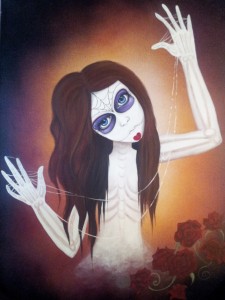 Good Saturday Morning to you!!! The weather has been wacky here in NY one minute its cold the next minute its lovely warm and storms galore. Lets hope the storms help the greenery bloom much faster. Painting outside sounds like an Awesome idea.
I have been working on a Day Of The Dead Girly Collection the past week and I am loving these little ladies. These ladies are not dead or any type of zombie. They are just ladies dressed up make up and all in celebrations of  El Día de los Muertos Day Of The Dead. I will be offering a variety of size Paintings. Smaller pieces will be put up 4/24/13 at a very affordable price so keep your eye out these paintings will go very quickly. Other paintings will be offered as well but of course depending on time that goes into a piece the price will go higher. Keep your eye out here they are coming very soon. Here is a 16″ x 20″ stretched canvas painting I have been working on all week. She is very lovely and spooky at the same time.