March, 2013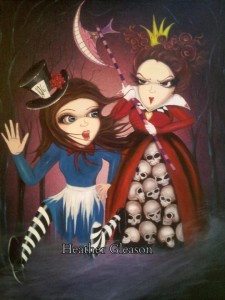 I am dreaming up some ideas that may bring some of your favorite designs that I have created to display other places besides a frame or your wall. I am doing some research and will be contacting some local printers that can work with me on the larger scale to make some of this happen.
On another note I have been working on my Halloween book that will be coming out this September. This book will be filled with lots of Halloween images from past to present. Some have been in private collection for years others will not be available for sale and are in MY personal collection. Each image will have a short story or poem to go along with it. Lots of FUN. I am still working with Heather Jones Taylor on our Mimi project and I can't say enough about Heather she is Fantastic. She has hit the nail on the head when it came to Mimi's personality and I cannot wait to share this experience and story with you. 🙂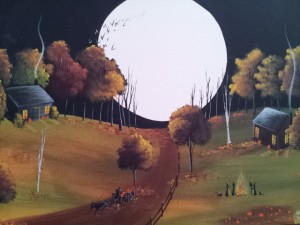 Autumn's Fire a New Primitive piece up for Auction on Ebay. This Full Moon Witch Painting draws you in. Almost like you can walk around with the sister witches and stand by the fire with them. Lots of FUN!!  Click the link below to check out more detailed photos of this Lovely Original Painting!!
http://www.ebay.com/itm/111035929124?ssPageName=STRK:MESELX:IT&_trksid=p3984.m1558.l2649
Into The Mouth Of Madness is A wood cut out in the shape of a Teapot. I painted it so that the Teapot takes on the colors of The Cheshire Cat. Alice, The Mad Hatter and the White Rabbit seem to be sucked into the Cheshire Cats Madness (mouth). I'm still working on this piece I am hoping to finish it up in the next few days. The Teapot measures about 11″ x 10″ .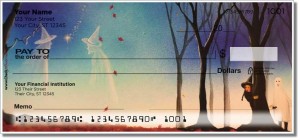 You can now Purchase my artwork on your Personal or business checks. Checks Advantage one of the nations leading printing companies will be offering 4 collections featuring my artwork. Each collection has different designs. You can also purchase address Labels and checkbook covers to match your checks!! No more Boring designs!!! http://new.checkadvantage.com/heather-gleason-checks