January, 2013
Good day to you all. I hope the New Year is being good to everyone. Its blistering cold here in NY today. I have my heat blasting and my fake fire place going lol.
I am just on here today to fill you in on some good news. I have been working with a great company Checks advantage. They are one of the nations top printing companies of Personal and business checks. I have agreed to license some of my artwork to print to personal and business checks, labels and check book covers. I will have a few collections to offer you. The collection should be up within the next two weeks. In these collections you will find 3-4 very popular designs i have created in the past. One collection includes The Scarecrow collection. I will post links to the website when the collection becomes live to the public. I will have more collections including THE WITCH, HAUNTED HOUSES, GOTHIC GIRLS, ect. No more of the same boring design. Get some vibrant spooky gothic designs you like and show with pride 😀 Here is a link to the website blog you can read up on until my collection comes out.  😀
http://new.checkadvantage.com/american-artists-on-your-checks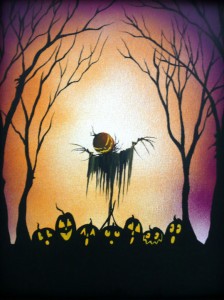 one of the designs i will be using in the Scarecrow collection.