December, 2012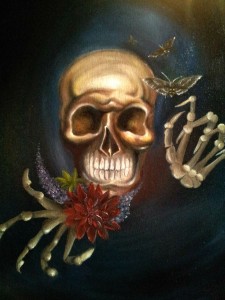 Good Morning.  The Dragon year is coming to an end. A new year is coming in I have the next few months off to put into some new works like the one here on my blog. I have been digging into my oil paints and have started a new level of painting. The oil painting will be much more detailed. These paintings will take some time to create depending on size ect. I enjoy oil paints as the paintings seem to come alive the paints are more vibrant and much easier to use then the Acrylic paints when it comes to blending. The only down fall is the time it takes for these oil paintings to dry. Much longer then Acrylics which is only an hour or so lol. I promise in the new year. PRINTS of all sizes will be available for purchase along with Larger and smaller paintings in all price ranges. Please remember as you go to work for a pay check everyday this is my job and i do pay myself for my time depending on the time it took me to create a piece which could be days even months. It also depends on the popularity of the piece which will make the painting pricier. All paintings will have prints digital and canvas. The canvas prints look identical to the original painting (no distortion) when hung you can't tell the difference from the original they are that beautiful. Although allot of you are fanatical about owning an original the originals will be available but at a much higher price. Digital prints will be smaller but are great on your budget and all sorts can be collected.
I will also be working on furniture in the next year. Starting in spring i will have small and Large Coffin cases the small coffins will be hand painted to display small collectibles inside. The larger ones will be sizes 4ft -6ft tall shelves all hand painted. For those of you that like my clocks i will be working on several one of a kind clocks. DIFFERENT SHAPES AND SIZES  all handcrafted . I have a few Ouija board tables i have been working on all one of a kind. Lots more to be listed but i will keep some of you on the edge of your seat to what i will have for you next year. All of these and more will be offered ONLINE no matter the size. I will be adding allot more to my Etsy store as so many love to shop on Etsy. I will have some Fun auctions available on Ebay as well. When an auction goes up i will let all you bloggers know about it and on Facebook. Please remember ALL NEW WORKS will be posted to MY WEBSITE STORE. So if you want to see EVERYTHING i have to offer you can get it in My Eclectic Mind website store.
I hope you all had an Amazing 2012 year. Lets have a Fun 2013 ODD year 😀 Chat with you soon and keep your eyes peeled here!!!!!
Its Christmas eve, I would like to wish everyone a Merry Christmas and Happy Holiday. Smile, be joyful, see you in a few weeks with some brand new Art 🙂
Happy Monday morning to all of you. My shows are over for the 2012 Dragon year. It feels good to be back into painting again and it was wonderful seeing so many of my collectors old and new. My NEW website is now completed and so much easier to navigate and to purchase directly from me. Any and all paintings i make will be put on my website. No matter the price running from $5.00- 3,000 dollars it will be posted here for your consideration. I do have some fun ebay auctions this month. Just a few Some Holiday pieces I have a Halloween landscape painting ending weds and a Mimi painting and witch painting ending on Thursday. If your local to the Hudson Valley My Brother has a Store in Saugerties "Brine Barrel Pickles" Its a small Deli and has great local and imported foods. I have paintings hanging in the store all the time and $5.00 prints. I am searching for shows for the 2013 year. As soon as the shows are confirmed i will post them to my site 🙂 Be sure and check out those ebay auctions and take advantage of the great deals i have on my website.