April, 2009
Greetings my ghoulish friends.
The greeting Cards are here. I have the Scarecrow collection and the Witch collection.
Superior quality prints with UV protection on the outside.Blank insides. Each of these great prints are some of my most favorite creations. High quality crisp detail and vibrant colors. If you would like to purchase these cards please contact me or purchase through my store front on EBAY. These will be available on Etsy.com in a few days as well.
check them out…
The Scarecrow Collection

The Witch collection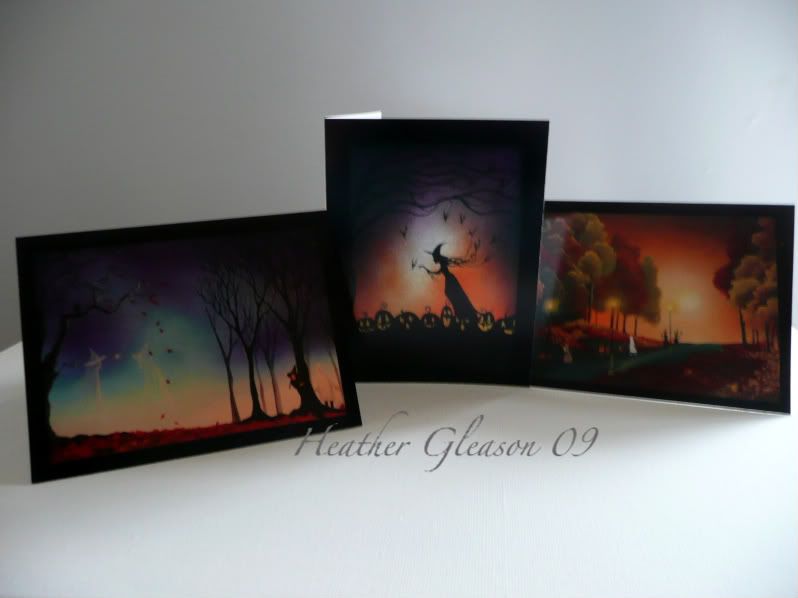 Looking forward to the great weather this weekend.
Have a Frightfully Great Evening
Heather:)
Good morning, Lovely weather today in NY crossing my fingers for the 72 degrees the weather man has forcasted for this area. I am real excited plan on doing a little cleaning then outside to paint for today. OK..OK enough of the rambles on the weather on to art news.:)
I made a HUGE mistake risking the chance of getting T-shirts through an online store. UGHHH BIG MISTAKE!! The T-shirts I had received are not sell able and was just a big disappointment! I will be visiting a local T-shirt printing company here in Kingston NY "Sunshine T's" They created my Neurotic Nora T shirt design and the quality was outstanding. So the T's are on the back burner at this moment in time. Will keep you updated on that very shortly.
New this month Keep your eye out for a collection of Spooky greeting cards. Six different designs. High quality brilliant colored prints of some of my most favorite pieces. Including The all sinister scarecrow, Whimsical witch design, and Autumn Halloween themed prints. Truly allot of fun I can't wait till you see them 🙂
I have been bitten by the vintage bug and have been visited by Halloween's past. A little ghost whispered in my ear and said I am here I have not disappeared do as I say in the end you will scream Hooray!!! So I have been screaming hooray as I have been using the look and technique of Halloween's past to create some of my newest designs. Mirrors, decorative wood stools, and this vintage western electric rotary phone. If you would like to purchase any of these pieces click the buy stuff button or contact me directly.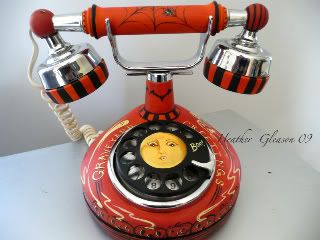 Well I hope everyone has a wonderful day. I Will be back on a in a few days with some more updates.
Heather 🙂