February, 2009
Good Day
Well March is rolling right in thank goodness we are inching closer to Spring.
I am aching to paint outside. Actually standing outside instead of running from my car door into the house lol that would be great.
Well I will be posting new PostCard prints online this week. Here is a preview of one the others you will have to check for yourself here on my website or click the Buy stuff button to purchase on Ebay :)Hey Its winter you don't want to go outside and catch a cold do ya? Hang out with me inside lol.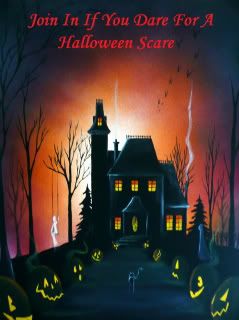 Well good Day to everyone. The weather man is Predicting snow for the next few days here in NY. Not to thrilled about that! I guess skiers and snow boarders are loving it though:)
On to some art news I am glad to say I have been accepted into the WOODSTOCK-New Paltz Art and Crafts fair in New Paltz NY. So Halloween will be comming to the New Paltz show in September.
I will be participating in the Fall show which will be held on the dates of 9/5,9/6,9/7 of 2009. This is a Quail Hollow Event you can check out the website yourself for more info on directions and other exhibitors attending. www.QuailHollow.com
Anyone that would like to receive a Discounted postcard to this great show please email me so I can send you a postcard.
The Hudson Valley Garlic Festival
Saturday, Sept. 26th and Sunday, Sept. 27th
One of my most favorite shows of the season. So much fun and such great people. I was very sick at the 2008 show but I am all better this year I look forward in seeing everyone again:)
I am still yet to hear back from two other show promoters. As they become available dates will be posted.
HorrorFind Weekend dates have not been posted yet at this time.
So thats all for now. I will keep you updated as much as possible.
Oh and keep your eye out here for new art being added including the T-shirts I promised in March:)
Heather
Good day to you folks!! Well it has been alot warmer here in nY thank god to that!
The sun is shining and NO snow has fallen from the sky in a while YAY!!
Today is Bloody Valentines Day. I hope everyone has a lovely day where ever they may be.

Good Morning
Still very cold here in New York. Around 7 degrees outside. I plan on going to the movies today to see Coraline with my children. So a little afternoon break from painting will do me some good.
On to some art news. This Saturday I will be offering hand painted T-shirts On E-bay. Witches/occult and more spring themed pieces something for everyone. I will have varied sizes available and in many different colors. I will offer regular style T-shirts along with a more fitted T-shirt. Each piece Is hand designed by myself. High Quality Printed T-shirts will be available in March here on my website and on Ebay. These printed T-shirts will come in limited quantities. I will also be offering limited pieces such as Long skirts with a modern twist,and canvas bags. So check my website often for new updates.
I am proud to say that I will be doing a new venture this year with WaningMoon press. You can check out the website at www.WaningMoon.com. Founder of this intruiging website is Author John J Coughlin. John has been a practitioner of the Occult Arts since the mid-1980's. In that time he has worked with several groups, although he primarily prefers to walk a solitary, eclectic path. Also associated with the Gothic scene, John has incorporated his personal aesthetics and ideals into his spirituality giving him an often unique perspective. This being he is a very creative spirit and very friendly gentlman. John will be setting up a featured artist or virtual art show on his website www.WaningMoon.com. Art pieces that I give to Waningmoon will only be available on the WaningMoon website. So be sure to look for great Occult One of a kind paintings in the months to come. Visit the website at www.WaningMoon.com to learn about john and other info he has on this website.
Well to everyone reading this, stay warm!! For those who live in a warm climate can I come visit you LOL?
Chat soon
Heather 🙂