November, 2007
This Friday November 23rd I will have a sale on most of my artwork in store.Click the BUY STUFF button above to view what is on sale and the sale prices. Get great deals like free shipping on select items. Buy one get one free. Reduced prices on larger detailed paintings. Free 11″x14″ custom painting when you purchase $95.00 or more. Purchase $100.00 or more receive the free custom painting and FREE shipping on your whole purchase!!Why hassle with nutty people in stores on the craziest shopping day of the year. Purchase original artwork for your friends and loved ones this year. Have a wonderful and safe Holiday!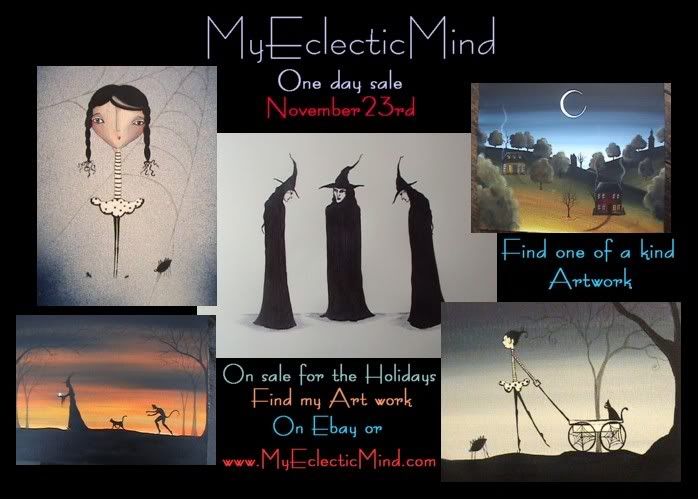 The Halloween Art Exhibit in Chicago was a great success. My Art work sold and I am very pleased to announce I will be on the Halloween Art Exhibit website in a few more weeks. Scott Jackson Show Promoter did a great job. Thank You Scott and Chad Savage for telling me all about this great Exhibit. I can't wait till next year. I am thinking of traveling to Chicago for the Opening next year. More info as it comes in.Thank You to the new collectors that have purchased my work. Enjoy your paintings.
Two other successful Art Galleries have contacted me about future show case in NJ and here in NY more info on that will be posted at a later date.
Hope everyone is having a great Week!!
Heather 🙂
Here is a link to a great website called halloween.com Find everything for Halloween in one spot.
<